PAST EVENTS
Dewey's Nightmare
The Gene Frankel Theater and Film Workshop
October 14, 2007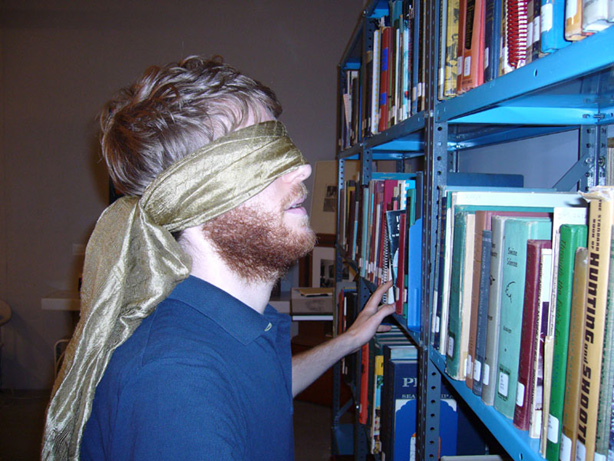 On Sunday, October 14th, the Reanimation Library teamed up with two theater companies, The Thursday Problem and Working Man's Clothes Productions, in the production of Dewey's Nightmare: The Library Play Challenge.
Conceptualized by The Thursday Problem's Artistic Director, Eric Sanders, the premise is fairly simple: a group of seven playwrights came to the Library on Saturday and each picked one book at random (with the help of a blindfold). They each have one week to write a 10 minute short play based on the book. Next Saturday, each playwright will be randomly paired with a director who will then have one day to block out the play. On Sunday, the playwright and director will be randomly paired with two actors who will have one hour to rehearse the plays. The plays will then be performed, competition-style, that evening. In addition to the playwrights, a handful of artists and musicians have participated in the random book selection and will be presenting the fruits of their week-long labors.
With titles such as Fundamentals of Army Airplane Maintenance, Atlas of the Heavens - II: Catalogue 1950.0, Possibility of Intelligent Life Elsewhere in the Universe, and Garden Flowers in Color, it is sure to be an oddly compelling evening of theater.
Dewey's Nightmare: The Library Play Challenge
Sunday, October 14th at 7 PM
The Gene Frankel Theater and Film Workshop
24 Bond Street, New York, NY, 10012 (see map)
Works Performed
Mangina
by Eric Sanders
Directed by Kerry Whigham
With Joyce Miller and Lauren Schneider

How to Make Good Pictures
by Rachel Shukert
Directed by Amanda Charlton
With Ryan Bronz and Adam Farabee

Atlas, or Constellation Golf
by Casey Wimpee
Directed by Michelle Bossy
With Alana O'Brien and Nick Thomas

Garden Flowers in Color
by Kyle Jarrow
Directed by Heath Cullens
With Jenny Gammello and Joe Plummer

Dynamometer
by Laura Eason
Directed by Matthew Hancock
With Nick Arens and Christianna Nelson

Otherlife
by Justin Swain
Directed by Jake Witlen
With Gavin Starr Kendall and Michelle Maxson

What Life Means
by Alexander Poe
Directed by Daniel Kutner
With Stephen Bel Davies and Karen DiConcetto