PAST EVENTS
The Aural Contract Audio Archive Evening
February 6, 2011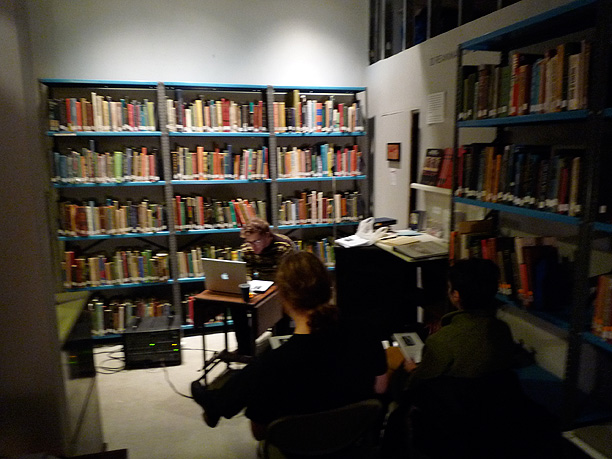 Lawrence Abu Hamdan reads from John Gabriel Navarra's Our Noisy World: The Problem of Noise Pollution
The Reanimation Library is pleased to present The Aural Contract Audio Archive Evening, a live listening event on Sunday, February 6th at 7:00pm.
The Aural Contract Audio Archive Evening is an expanded presentation and discussion of artist Lawrence Abu Hamdan's ongoing Aural Contract project, initially commissioned in 2010 by the Showroom in London. The project is constituted by a series of events, publications, performances, exhibitions, workshops and audiovisual material that examine a contemporary politics of listening through a focus on the role of the voice in law.
Aural Contract Audio Archive Evenings are group listening events in which the artist's project is presented through inhabiting the modes of listening and patterns of enunciation that are at the heart of an ongoing investigation into the politics of sound and the conditions of voice. Those in attendance will be able to select, collectively listen and aurally zoom into excerpts from the Aural Contract Audio Archive. Forensically listening to a collection of extracts from the project's interviews, performances and activities as well as short recordings of trials and specific examples of juridical listening and speaking gathered and ripped from numerous and global sources such as; The trial of Saddam Hussein, the UK police evidence voice archive, films such as Decoder and plays such as Harold Pinter's Mountain Language. This event invites an act of listening that intends to open a wider discussion around issues of speech and practices of listening that are fundamental and universal to politics and the actions of the state in both the local and international context.
The Aural Contract audio archive can be found online here www.113dalstonlane.com/auralcontract
Born in Amman, the London based Artist Lawrence Abu Hamdan's work is chiefly concerned with the politics of listening and the relationship between sound and urbanity.
Abu Hamdan has exhibited widely in the UK and abroad, including the ongoing Aural Contract project at the Showroom, Marches for Artangel Interaction, his co-curated exhibition Model Court at CCA Glasgow and The Aural Contract Audio Archive evenings, a touring platform for performance and collective listening that has been presented at sites including Space and Delfina Foundation in London, 98 Weeks Beirut and the Reanimation Library New York. In addition to this Abu Hamdan is an active facilitator of music and art events both as part of the group that inhabit and run the space at 113 Dalston lane in London and the forthcoming Batroun Art Proposal in Lebanon, both of which are hubs of self organized (DIY) music and art practice. He is currently undertaking a PhD at the Centre for Research Architecture at Goldsmiths College, University of London.